Trust Wordy Editing Works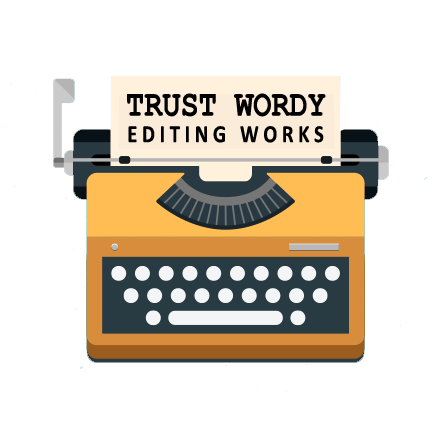 "How do I get my work edited…?"
"I cannot find a good publisher… Getting rejections from various publishers. I feel a lack of editing is the reason… But where are good editors?"
"My manuscript got selected by a publisher but I am afraid of publishing an unedited work… Who will edit my work in such a short span?"
"I saw various advertisements of large scale editing works but the amount they take does not suit my budget… What should I do?"
Facing all these questions after writing something? Now find a common solution at Trust Wordy Editing Works.
We at trust Wordy editing works understand the notion behind the writings of a writer and edit the work to make it speak itself without playing with the story and thoughts of the writers that are behind the lines.
In the present scenario, the writer gets offers from various publication houses to get his work published in a month without any editing and proofreading. This practice can lead to a long-term problem for an author questioning his writing skills and abilities. So, getting your work edited is a must.
Mostly, when a writer chooses to get his work edited from a reputed editing company, he has to pay a lot of amount and besides that the editing company takes a lot of time (5-6 months) to edit a work. Such a long time span can hinder the number of opportunities and the potential of the manuscript.
Generally, the book reviewers are regular readers and prefer quality work. If the work is not properly edited and finished, the book might get poor reviews despite a catchy title, story, and respectable sales. The negative reviews result in a poor image of the author and the book as a result having a long term effect.
We at trust Wordy editing works provides writers with a quality edited work within a given period of time in a reasonable amount. This not only prevents your work from negative reviews but also helps in creating a benchmark for all the other writers, that quality writing and flawless editing does matter.
Come work with "Trust Wordy Editing Works" and make your book a best seller.
Upto 35,000 words – Rs. 25,000
From 35,000 to 65,000 words – Rs. 35,000
Above 65,000 words – On Request.
Upto 35,000 words – Rs. 10,000
From 35,000 to 65,000 words – Rs. 15,000
From 65,000 words to 90,000 words – Rs. 20,000
Above 90,000  words – On Request
*We will provide you sample editing before you opt any package for just Rs.1000.
(First 3 Pages/1st Chapter)
*The above packages are for English Language only.Kindly contact us to get the quote for Editing/Proofreading service for any other language.
*All published prices are subject to change without prior notice.