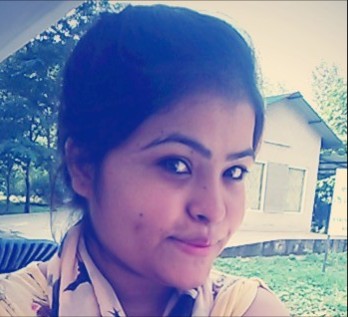 Here is the interview with Sanjana Bandooni one of the contributory writers of The Forgotten Life
Ques 1 – How was your experience when you came to know that you were selected for " The Forgotten Life " ?
Ans 1 –   I was on cloud nine at that time. For me that moment was very precious. I can't describe here in words. Firstly I informed my parents then my friends and roommates. It was such a big good news for me which gives me lots of happiness and the reason to live my dreams.
Ques 2 –  What is unique in your story ?
Ans  2 –   In my story, the main protagonist tries to create a world of happiness in her life. The emotions and feelings of her, the dilemmas of her life was beautifully penned into words. I've used my best efforts to make it more understandable and emotional too. Writing such story with deep imprints was very tough for me.
Ques 3 –   How is the feeling of getting published ?
Ans  3  –   Feeling of getting published is really nice to me. The small footsteps   which I've taken earlier in school days giving me so much confidence to write more and more.
Ques 4 –  Any tips to unpublished and aspiring writers ?
Ans  4 –  Chase your dreams always. Put your efforts in right direction, follow your instinct.
Ques 5 – Where do you see yourself

in 10 years

in the field of writing ?
Ans 5 –   I want to see myself as a renowned writer, author, mentor and motivational speaker. I want to open my publishing house to help and guide the aspiring writers.
Ques 6 – How was your book publishing experience ?
Ans  6 –  Book publishing experience is very amazing and surprising to me. As I'm new to this field and I'm unaware of little things so it is very exciting yet good for me.
Ques 7 – Which genre do you prefer for reading ?
Ans  7-   Most of the times I prefer romantic novels, horror and scientific fiction.
Ques 8 – Who is your ideal author ?
Ans 8 –   Durjoy Dutta
Ques 9 – What are your hobbies except writing ?
Ans 9 – I like to read, playing badminton, listening songs and sometimes dance too.
Ques 10 – Do you prefer work over writing or writing over work ?
Ans 10 –  Both.
Ques 11 – What next ?
Ans 11 –  I'm working on different stories and other projects. Hope so it will work in my favor.
Thank You  for giving us your valuable Time.
I hope Readers have found it Interesting.
Stay Tuned.
Book Your Copy Today :-  https://www.pustakmandi.com/The-Forgotten-Life-A-Collection-of-Forgotten-Stories