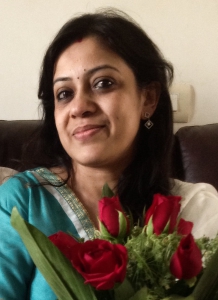 Muktha Warrier was born in a small town of God's own country, Kerala.
Now put up in Delhi.
A Post Graduate in science stream. (from Indore Engineering College). Did DAC from CDAC Pune; Worked as a software developer with a private firm in Pune and then as an editor with a publishing company in Pondicherry.
Published some poems in a leading Malayalam weekly and some articles in various e-magazines.
Daughter of Dr. K.B. Warrier (Kerala Govt. Astrologer) and Mayadevi (Retd. Joint Director of Panchayats).
Sister Manju Giri.
Married to Radhakrishnan (Vice President with TPG groups), and having a daughter Anagha.
1) How was your experience when you came to know that you were selected for "The Forgotten Life"?
Surprised at first then felt really happy
2) What is unique in your story?
Unique because it's my own real experience, with some miracles happened in my life, mixed with some fantasies.
3) How is the feeling of getting published?
Getting a story or book published is a thing of joy for any writer; I'm not an exception.
A dream come true

4) Where do you see yourself in 10 years in the field of writing?
Writing is my passion. Though I keep writing; I may not be able to publish everything and so my writings may not reach many readers. So can't predict anything whether I will be an accomplished writer.
But one thing I can affirm is, I won't quit writing, as it is in my blood, genes…like music.
5) Which genre do you prefer for reading?
Real time experiences, detective fictions, thriller, myths/fantasies
6) Do you prefer work over writing or writing over work?
Writing over work
Thank You  for giving us your valuable Time.
I hope Readers have found it Interesting.
Stay Tuned.
Book Your Copy Today :-  https://www.pustakmandi.com/The-Forgotten-Life-A-Collection-of-Forgotten-Stories