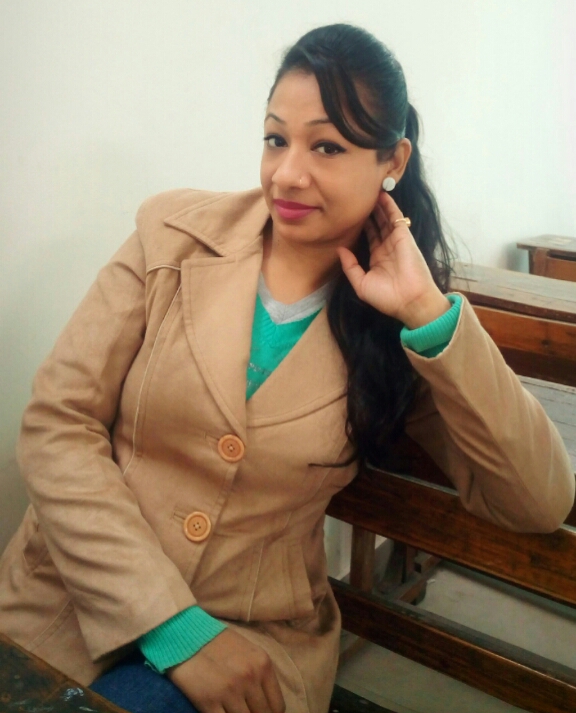 Divya P.S. Rawat, born and brought up in Delhi, is a Post-graduate in English Literature and a teacher by profession. She is an avid reader and loves to read romance novels and poetry. Her journey as a writer started with Authors' Ink Publications. Her writings are the reflection of her emotions and day-to-day experiences. She has been a contributing poetess in 'Melody of Life', a poetry anthology. Her poems have also been published in an e-magazine 'Writing Geeks'.
Besides reading and writing, she spends her leisure in sketching, drawing, painting, and listening to music.
Q1. Introduce Yourself.
Like any other normal human being, I, too, possess both positive as well as negative traits in me. I love to laugh and am a very fun loving sort of person, but at the same time, I am little emotional and introvert too.

Q2. when did you realize that you are born to write?
To be very true, I don't think I am born to write only. I think I am born to do every that stuff that fetches me happiness and satiates my soul, and writing is one of those.
Q3. where did you learn about crush 2?
I remember, few years back, Authors' Ink publications came up with a contest for an anthology CRUSH (1), in which I desperately wanted to participate, but I couldn't because till then I had no experience in the field of writing stories. And then years later, Authors' Ink Publications again came up with a contest for CRUSH 2, it felt like god was again providing me with an opportunity to fulfill my dream. And this time, I didn't let it go out of my hand. I got enough time to hone my skills in story writing. I wrote 3 stories, and one of them sent as my entry for the contest, and luckily it got selected.

Q4. how did you come out with your story?
As the theme and the title of the anthology isCrush, I was supposed to write something about crush or a love story that remains incomplete. So, I picked up some ideas from my everyday experiences, and some ideas from the incidents that we usually see take place around us, especially in youngsters' life, and finally, wove them into a story.

Q5. what is your story all about? brief us.
My story in CRUSH 2 'The Discarded Gift' is a fiction, but it's a kind of story that anyone can relate to.
The story is about two people who are in love, but neither of them is aware of other's feelings. Moreover, they are too shy to admit their feeling for each other. They try hard to be together, but their destiny has something else in store for them. 

Q6. what are your future plans?
Actually, I am too lazy to plan anything for future, and believe in going with the flow, still I hope someday I'd be able to write my own novel. But before that, I need to hone my writing skills a little more as I still consider myself an amateur writer only.

Q7. how was your experience working with us?
Authors' Ink Publications is the only publishing house who showed faith in an amateur writer like me and facilitated my journey in the realm of writing. Nowadays, there are a lot of people who are blessed with writing skills, and they have a dream to get published. I, too, was one of them. And it was Authors' Ink publications who fulfilled my dream. First, it gave me an opportunity to be a contributing poet of a poetry anthology, 'The Melody of Life', and now a contributing author of CRUSH 2. What else I could have asked for.
This publishing house like the first love of my life will always be there in my heart. So, it was altogether a great experience working with AIP.
And  much thanks to Aniket Kapoor, the founder of Authors' Ink Publications for providing amateur as well as established writers with such life changing opportunities!
Thank You  for giving us your valuable Time.
I hope Readers have found it Interesting.
Stay Tuned.
Book Your Copy Today: –  Pustakmandi